For many years AllTverLadies.com has connected single men and women everywhere, helping them to find that dream partner. This is your opportunity to become part of this incredible love story, to help shape people's lives and play a part in shaping futures.
Promote AllTverLadies.com and drive your mainstream dating traffic to our website. The more single people we can reach around the world, the more love stories we can create together.
---
Become our affiliate partner:

ADVERTISE
AllTverLadies.com with various marketing tools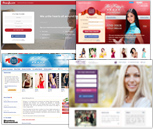 REFER
brand new customers to AllTverLadies and its sister-sites

MONETIZE
your dating traffic with some of the highest commissions available in the industry
---
Affiliate2Day is:

Free to join

Easy to set and manage

Requires no special technical knowledge

Professional support for our partners
Be a part of a great love story and benefit with Affiliate2Day!
Sign Up