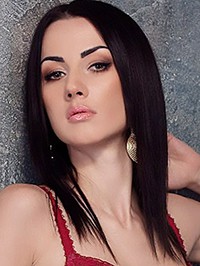 Elena's Video
10 credits will be deducted from your account for watching this video
Interests:
I like music, fashion, traveling, cooking, dancing and singing.
Self-Description:
I am a happy person. I am kind and purposeful, open-minded and easygoing. I am one of the people, who are constantly smiling. I am supportive and I am a good listener. I want to build a strong family and to build it on trust and mutual understanding.
Elena is searching for:
I am looking for a person, who will simply inspire me to be the best woman just for him. When a woman feels that she is beloved and it is a mutual feeling, she is ready for everything.
---
Horoscope of Elena from Kiev, Ukraine
Elena was born under the sign of Scorpio

The Scorpio female is very affectionate and sometimes emotional. Elena seldom flirts and is not up for a one-night stand. She wants a partner who is completely faithful to her and she is not willing to share him. She has a rigid view of right and wrong and expects her partner to love her only.

A Scorpio woman is fascinating irresistible and marvelous. She is exciting in the bedroom and carries an aura of intrigue and mystery. She can send her partner soaring to the heights of love and happiness.

The woman who is born under the sign of Scorpio expects her partner to love and respect her without fault. There is no negotiation or compromise in this area. Elena, as a Scorpio female desires a union that is totally committed. A casual relationship is not something that interests her once she's made the decision that this is the partner she wishes to spend her life with.

A Scorpio female is faithful and loyal to the mate she chooses. There is no fiercer ally that a husband or partner could have. If necessary, she will lie down her life in her mate's defense. A man who chooses a Scorpio female, as his partner will be ultimately happy in the relationship if he is affectionate, loyal, respectful, faithful and loves her with all of his heart and soul.