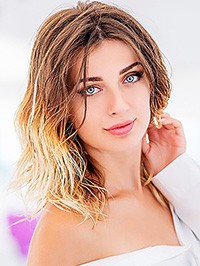 Elena's Video
10 credits will be deducted from your account for watching this video
Interests:
I like drawing and singing so you can understand I have a creative personality and a curious mind! I love being busy, the lazier I am the more tired I feel so action is for me! I adore nature, sea, camping and BBQ!
Self-Description:
Do you know what is a bright mixture in one? Oh, this is me. On the one hand, I am very active and fun, I am easy-going, you will never ask me twice to go for a walk or camping, dancing or biking. I can fish and play football. :)) Yes, I am a creative and active personality and I am not afraid to be a hard-working person, despite being a slim girl, maybe that is why I chose to be a designer and builder and I can do everything at home, starting with putting a nail in the wall, and doing some difficult works, like plastering! I am dreaming of building a house with my beloved man. I know that together we can be a team! On the other hand, I am a mature lady who dreams about serious and long term relationship, who wants to care about her man and create our own world full of happiness and love.
Elena is searching for:
I`m looking for someone who can wend his way through life hand in hand with me, supporting, loving and caring for each other. I hope you come from a friendly family in which it is accepted to gather on holidays as the Americans do in movies on Christmas. I will respect customs and traditions of your family and will tell you about mine.
---
Horoscope of Elena from Mariupol, Ukraine
Elena was born under the sign of Cancer

The Cancer female possesses the ability to make a man feel like he is ten feet tall from the moment they are introduced. Elena is very feminine in her mannerisms and posture and is more seductive than any other female of the zodiac. However, this is an unconscious trait and is never planned.

The moon rules the Cancer female and her moods change with its phases. Elena is extremely sensitive and proud. Her maternal instincts are highly developed. She makes a devoted wife and a great mother. She has no trouble demonstrating affection to those she loves. She will create a home that is attractive and artistic and is an excellent housekeeper, though she will often rearrange the furniture because of her need for change and making her home as attractive as possible.

The Cancer female has great talent in drama and music and often tends to have literary interests. She has a charming personality and often chooses a partner that is her senior. She is talkative, cheerful, friendly and outgoing, but likes the man in her life to be her anchor and to have extremely masculine traits while treating her with love, respect and compassion.