St. Valentine's Specials
Gift delivery > St. Valentine's Specials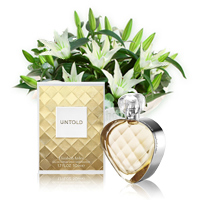 BE MY VALENTINE!!!
ELIZABETH ARDEN UNTOLD, 5 lilies
Make a special gift on a special day! Surprise the lady of your heart by sending her a unique set of luxury lilies, and an outstanding fragrance ELIZABETH ARDEN UNTOLD.
Price: 769 credits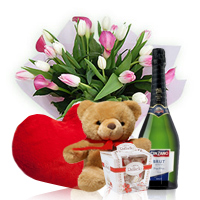 TRULY, DEEPLY, ALWAYS...
15 tulips, a Red Heart, Raffaello Coconut Candies, Teddy Bear, Champagne Cinzano/Martini Asti
Reveal your feelings and intentions on the special day of St. Valentine! Touch her heart by sending her extremely delicious Coconut Candies, flowers, a fluffy toy, champagne together with a Red Heart, a traditional and vivid symbol of this holiday! This present will speak for itself!
Price: 749 credits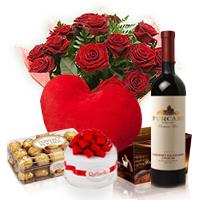 SENDING YOU MY HEART
11 red roses, a Red Heart, Raffaello Coconut Candies, Ferrero Rocher Candies, Truffles Candies, a bottle of wine
Your beloved lady is far away, but still you want your heart to get closer to her, then this option is just for you! Be sure that she will like these wonderful roses accompanied with different kinds of candies and a Red Heart, a traditional symbol of St. Valentine's Day. On getting it she will feel your heart beat!
Price: 769 credits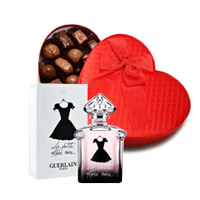 YOU ARE DEEP IN MY HEART
GUERLAIN La Petite Robe Noire, "Heart" Candies
Would you like to impress the lady of your dreams? This set is the right choice! A touching fragrance GUERLAIN La Petite Robe Noire won't leave her indifferent. Wearing it every day, she will always remember you and she will hear you whispering softly in her ear: You are deep in my heart!
Price: 699 credits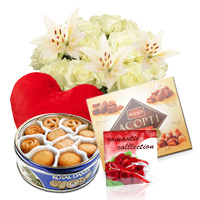 MY PASSION IS YOU!
Assorted chocolates, Danish cookies, 9 white roses, 3 white lilies, a Red Heart, Romantic CD
Do you think your beloved one deserves something really unique on a special day? If so then surprise her by sending tender white roses and lilies. Add here chocolates, cookies and CD with romantic musiń… and she will get a message of warm adoration from you!
Price: 719 credits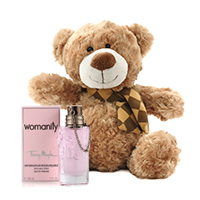 YOU ARE MY ONE AND ONLY
THIERRY MUGLER WOMANITY, Teddy Bear
An easy way to rock her world and convey the passion to the one you love! THIERRY MUGLER WOMANITY is a legendary symbol of a strong and deep feeling. Accompanied with soft Teddy bear toy it makes a superb present for your beloved. Even being far away, now you have a chance to open your heart and your secret desires!
Price: 699 credits