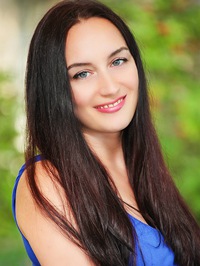 Interests:
I am an active lady from Ukraine and I have many interests. I try to keep my body in good shape that is why I adore aerobics and fitness. Traveling, listening to music and walking tours are also among my interests. I also like going to the theatre and reading books. So, as you can see I really need a special person to share my favorite activities with. :))
Self-Description:
"Think positive!" is my life motto and it can say a lot about me and my personality. I am a tender, positive, sincere, generous and goal-oriented lady. I know it is hard to live without any aim, but I have the biggest one. I want to create a nice and strong family and develop the home comfort there. I don't like conflicts and I like making people laugh!
Viktoriya is searching for:
What kind of a man I would like to meet here? I don't need a model or a super hero. I need a confident, goal-oriented, honest, mature, kind and attentive person. He is ready for a serious relationship and he knows how to treat his lady in a proper way. It will be a great bonus if he shares my interests.
---
Horoscope of Viktoriya from Khmelnitskyi, Ukraine
Viktoriya was born under the sign of Gemini

The Gemini female is fun to be around. She is the symbol of a modern, intelligent woman. She possesses first-rate mental capabilities and has a light touch.

Women born under the sign of Gemini enjoy social interaction and are most often the life of the party. They are easy to approach and are very outgoing and friendly. They are almost always looked upon favorably by others and though the Aries woman always views the world in a unique way, she does not try to push her opinions on others.

As a partner, the Gemini woman is always exciting and makes and ideal career wife. Viktoriya demonstrates her affection for others and is impulsive. She is fun loving and generous in displays of her love. She is considerate of others and always takes their feelings into consideration. She is always there to lend a helping hand.

The Gemini woman tends to work hard to achieve her goals. Viktoriya is lovable, provocative, charming and witty. They symbol of the twins express this woman's desire to become complete by finding her other half – namely her soul mate.