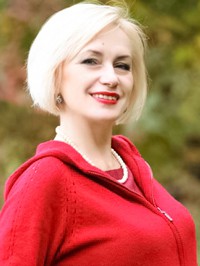 Interests:
My interests are versatile. First of all, I am a sporty lady. I like roller skating, riding a bicycle. I am always open for trying new activities. Secondly, I am fond of cooking. While travelling to different countries, I usually try their cuisine at first. ;) And yes, I like travelling a lot!) It is always a pleasure for me to meet new people and explore new horizons. :) In my spare time, I like doing some needlework. This hobby is a relaxation for my mind.) Another way to relax and clear my thoughts is listening to a classic music. Do you like it, too?
Self-Description:
Well, my personality is kind and soft. I am a sensitive, gentle and feminine woman. I always have genuine intentions, and sometimes people use it. I don`t want you to think that I am weak. No, I had a bitter experience in my life, that is why I am stronger now.) I am a master of my fate. Also, I can say that I have a good sense of humor. I enjoy the moments with my family and friends where we just talk and laugh. I have such a good mood after all!) All in all, I am a curious lady, so I like discovering new things.)
Alla is searching for:
I have been thinking about my perfect man. I would like to share with you my vision of him. I see him as a kind, gentle and caring man. I want us to have common interests and views. I appreciate it a lot when a person likes developing themself. I think it tells a lot about them!) My perfect man should have a good sense of humor. I want him to be able to make me laugh. Why not? I will do the same for him.) Honesty, loyalty, reliability are necessary for our relations.)
---
Horoscope of Alla from Derazhnya, Ukraine
Alla was born under the sign of Libra

People are drawn to the Libra female. Alla is almost always vivacious and captivating. Though Libra females enjoy flirting, they are always diplomatic and tactful. The Libra woman is trusted explicitly by her family and friends and always acts in a refined way.

Libra females tend to enjoy the good life, but will be a great asset and support in her husbandís career. She takes great care of her appearance and gets along well with people from all walks of life. She likes her partner to be intelligent and adventurous, in that order.

Libra women are always willing to assist her mate in obtaining the finer things in life. When young, she is easy on the eye and often described as beautiful. As she ages, the Libra female finds she has been highly educated through life experiences. Alla is amusing, entertaining, tolerant and witty.

Libra women are loving, kind hearted and her creative side loves beauty and harmony in her home, as well as in her surroundings. She is a great hostess and is willing to make sacrifices for the people she loves. Libra females are willing to endure hardships that life presents and meets the challenges head-on, to ensure that circumstances result in her favor.

Females born under the sign of Libra desires to be number one in her partnerís life. She loves affection and gives it freely in return. When courting, she sets her sights on finding her soul mate. As a wife she is feminine, warm, mysterious and fun loving. She is devoted to her children and gives an affection and warmth that keeps her little ones wrapped in a sense of security. The same can be said for the comforts that she offers a husband.