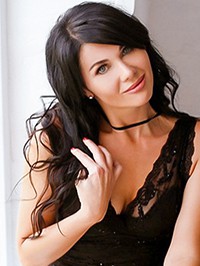 Julia's Video #1
10 credits will be deducted from your account for watching this video
Interests:
As any lady I love SPA and the best way for me to relax is to go there and have different procedures to contribute to my beauty and my relaxed peaceful inner state. I love shopping, but I never spend a lot of time in shopping malls. I have a good sense of taste and I love design, so I could be a good stylist! ;))
Self-Description:
I know how to treat my kidsí bad cold without having any medicine at home. I can cook soup having a couple of ingredients. I can fix a bookshelf. I am able to earn enough to help my close people. I am just so tired to be a SUPERWOMAN! I need my SUPERMAN who will take care of me and with whom we will be the best team ever.
Julia is searching for:
I need a man who can protect me and accept my kids, and who will never try changing something about me. A man with high moral standards and family values would be highly appreciated by me. I am here not to waste time so please donít pretend and be the one who you are. I appreciate sincerity in men most of all!
---
Horoscope of Julia from Zaporozhye, Ukraine
Julia was born under the sign of Virgo

Virgo heralds the end of summer and the approach of the harvest. It is the sixth sign of the Zodiac. The original context of the name symbolized fertility and the production of crops. As far back as the cave man era, Virgo was epitomized as a virgin and mother. During medieval times, she was associated with the Virgin Mary.

The Virgo female has a highly honed maternal instinct. Julia makes a devoted and loyal wife, while also devoting herself to her offspring. Most Virgos are pure and virtuous. They are clean in thought and action and keep a house and family immaculate. She tends to look for loyalty and pureness in a mate. They love to dress in the latest fashions and portray a look of glamour and elegance. They tend to enjoy being seen on the arm of the man they love. They have a high fashion sense and a good eye for color. Their wardrobe is always coordinated so they have something to wear for every occasion.

Many Virgo women are shy, unassuming, hard working and who give freely of their hearts. They serve their husbands without complaint and are intelligent, practical and logical. They are very receptive to new ideas and have a keen sense of sensitivity and feelings.

The Virgo woman emits a great deal of sex appeal and continues to be vivacious into her senior years. Julia is considered to be one of the most beautiful women under the Zodiac. Very alert in mind, the Virgo female respects old-fashioned values, is subtle and makes an excellent wife and partner. She takes great pains to understand and nurture her children. As a wife, she will go far beyond the call of duty to assure perfection for her partner and will support him in every way.